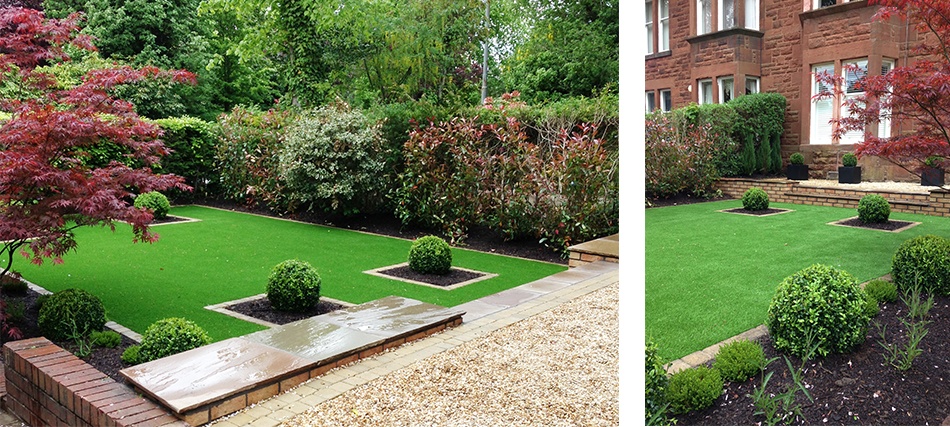 Getting a quiet minute with garden designer, Anne Macfie seemed impossible in the summer rush when everyone wanted a new garden. When Anne did get a minute to speak to me, I wanted to know what a popular request from her clients was. I couldn't be more surprised than when she replied, "artificial grass is hugely popular at the moment in Scotland."
Anne explained that this popularity is due to a very wet summer last year, the low maintenance element and also the latest development in making artificial grass more realistic looking than ever. Anne showed us one of her recent projects involving artificial grass. "The client wanted to use their front garden on a regular basis. Unfortunately it was partly in shade and boggy most of the time. An easy solution with low maintenance was artificial grass," she said.
"The planting is very simple – Buxus sempervirens balls, Hebe 'Green Mound' and Verbena bonariensis along the border with the Acer palmatum 'Atropurpureum' and on the other side Photinia x fraseri 'Red Robin' on either side of the existing Ilex. It's simple and easy to look after and it's neat and tidy."
According to Colin Griffin, owner of Scotsgreens, Scotland's leading supplier and installer of artificial grass, the products are more popular than ever in Scotland. He explained that most of the products can be guaranteed for 15 years or more. "Artificial grass is cheaper to buy and install than most people think. For a small back garden it can be as little as under £1000," explained Colin.
Anne Macfie studied Horticulture in Glasgow before setting up as Anne Macfie Garden Design Scotland, in 2002. Anne has appeared at The Ideal Home and Garden Show, giving demonstrations in the Masterclass theatre. She is a panellist for Gardeners' Question Time at the Glasgow Show, and is a judge for the annual Rose Trials in Glasgow and at horticultural clubs in Scotland. Anne writes regular articles for horticultural magazines and gardening-related publications and her gardens have featured in several Scottish magazines. She has taught at SAC in Ayr and Edinburgh on the Garden Design course and has been a guest on MacAuley and Co on BBC Radio Scotland.