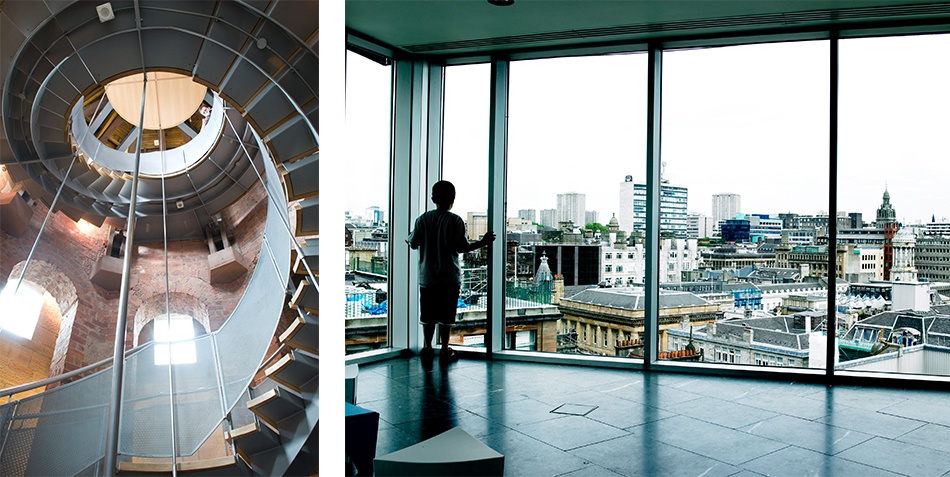 ABOUT THE LIGHTHOUSE
The Lighthouse, Scotland's Centre for Design and Architecture, is a multipurpose visitor centre in the heart of Glasgow. The building has its place firmly in Glasgow's history as it was the first public building designed by Charles Rennie Mackintosh and was home to the Glasgow Herald for many years. The Lighthouse is a thriving hub for the creative industries. With six exhibition spaces over six floors, including a Digital Design Gallery, they have a busy programme of creative exhibitions and events running throughout the year.
MACKINTOSH
As part of the Mackintosh trail the Lighhouse is the ideal starting point for exploring Mackintosh's work. The Mackintosh Interpretation Centre, a permanent exhibition dedicated to the life and work of Charles Rennie Mackintosh, is a must see exhibition for any Mackintosh enthusiast. From here you can also access the helical staircase, which leads you up to the viewing gallery at the top of the Mackintosh Tower where you are rewarded with spectacular views of Glasgow.
EXHIBITIONS
Take a trip through time and experience Glasgow through the ages in Foundation Glasgow, the other permanent exhibition on Level 4. In the Foundation shop you will find a delightful collection of Glasgow gifts as well as the exclusive "Toshie" collection. On Level 2, Architecture and Design Scotland run a rich programme of exhibitions, events and educational workshops promoting quality in design and placemaking in the built environment. In Gallery 1 on Level 1 of The Lighthouse they have a changing programme of exhibitions and events focusing on Scottish Design and Architecture. They also have a new Digital Design Gallery on the Ground Floor, a showcase of Scottish digital design and animation. Once you've explored all of the fantastic experiences The Lighthouse has to offer you can relax in the Doocot café bar on Level 5 or enjoy a spot of shopping at TOJO Design on the Ground Floor.
MAKLAB
The MAKLab, the 3D digital fabrication laboratory, offers design and architectural businesses access to great facilities and links Scotland to all the FabLabs around the world. Every Saturday the MAKLab opens to the public so anyone can make something they have designed. www.thelighthouse.co.uk